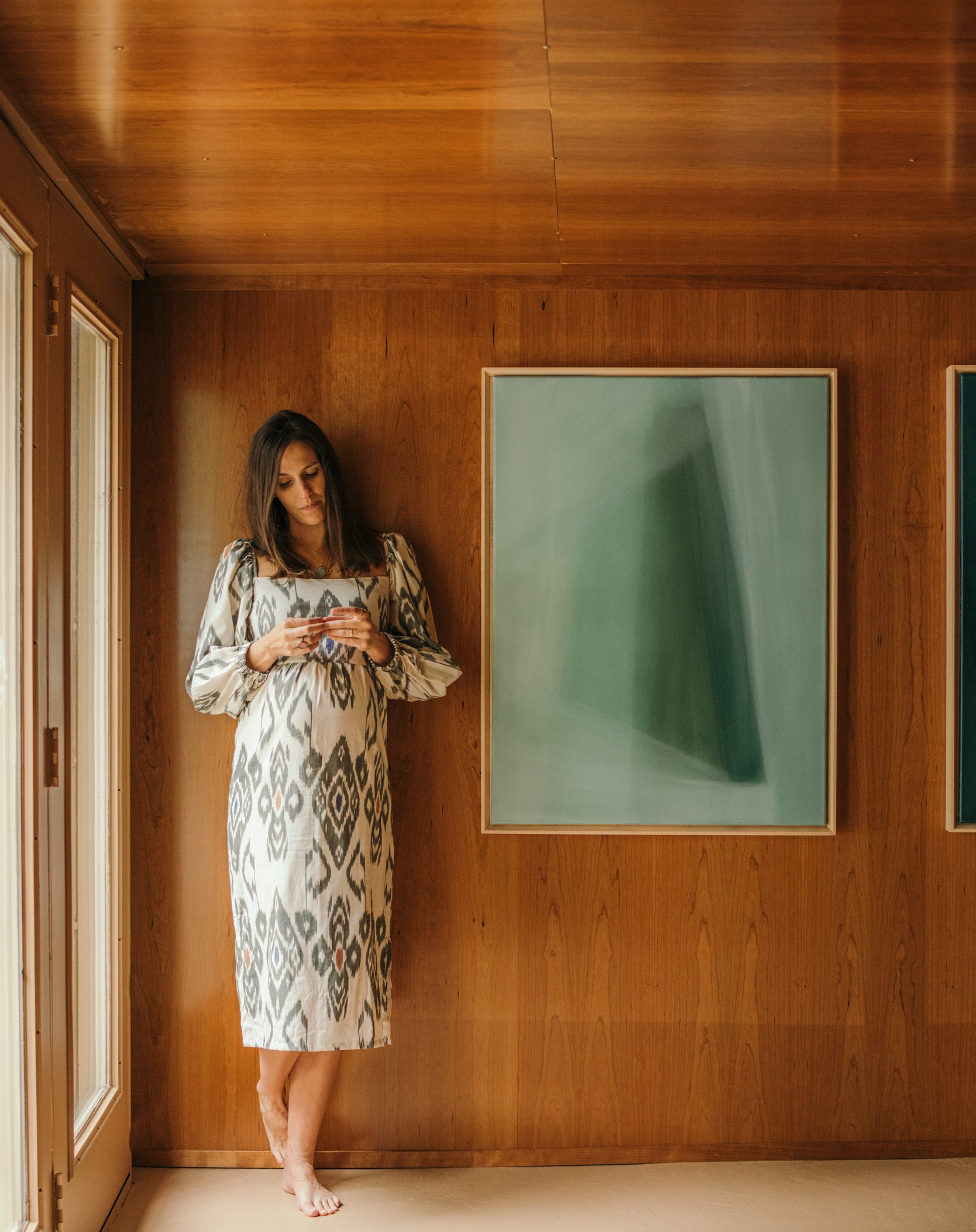 Friend, muse, artist, and more recently, collaborator Mallory Page (Rodrigue) walked us through her warm, transcendent gallery space on Magazine Street in New Orleans earlier this summer. Her large-scale paintings, comprised of thinly applied layers that unexpectedly create depth and softness, juxtaposed with the earthy wood walls and ceilings, make this environment personal, inviting, and uniquely feminine. We loved catching up with and photographing Mallory in this space, while masked, before she retreated back to her mid-century home across Lake Pontchartrain.
Scroll for the journal shot by Augusta Sagnelli, and to catch a glimpse of our Summer 2019 capsule collection with Mallory, click here.   
Did you always know that you'd pursue a career as an artist or was there something or someone that led you to the decision? 

To be a professional painter was not ever a dream of mine, but I fell into it in such a natural way that it must have always been my calling.
To be honest, we're a little fatigued from all the Covid-era questions. That being said, for a creative, and especially for an artist, have you found that inspiration and your process has shifted or changed for you over the past five or six months? 
When you consider we are working under an entirely new consciousness, yes, it has absolutely shifted and since we are being honest, it needed to.
I remember you telling me about your good news back before the early days of Covid. It seems like a lifetime ago. Going through the pandemic pre-during-post pregnancy is such a wild phenomenon. The solitude, being alone with your partner, having this time together — how has it been?

Ah, this sacred time, in our tiny love bubble, I guard its intimacy with my life.

Can you tell us about any projects on the horizon? Anything you've been working on or have scheduled out? 

My next exhibition, Sub Rosa is opening in November with Monica King Contemporary in New York.


Your home in Covington feels like such an escape — a midcentury "Woodstock-esque" hidden respite from the hustle and bustle of the New Orleans scene. With stay-at-home recommendations still in place, would you say it has provided an unexpected source of joy, safety, relief? 

My studio (which has become home for now) is a stimulating space to live and work because you are cocooned by nature. I have never been more grateful to have a nice sized patio and I don't miss "the scene" but I do miss the city.


Do you have any mantras that you live by or turn to? 

I walked the labyrinth at Ghost Ranch last fall and the mantra that has stayed with me is "Just exist."


Our favorite part of our journal series: the lighting round so-to-speak... 


Last book you read or are reading: 
Art and Architecture Books — necessary substitutes for missed museum visits.


Go-to snack: Rose Tea


Something you think is underrated: Compression socks


Something you can't live without: My mother


Favorite spot in New Orleans: Any old porch will do


In the mountains or on the water? Depends on the weather


Sunrise or sunset? Sunset