Singer-Songwriter Maggie Koerner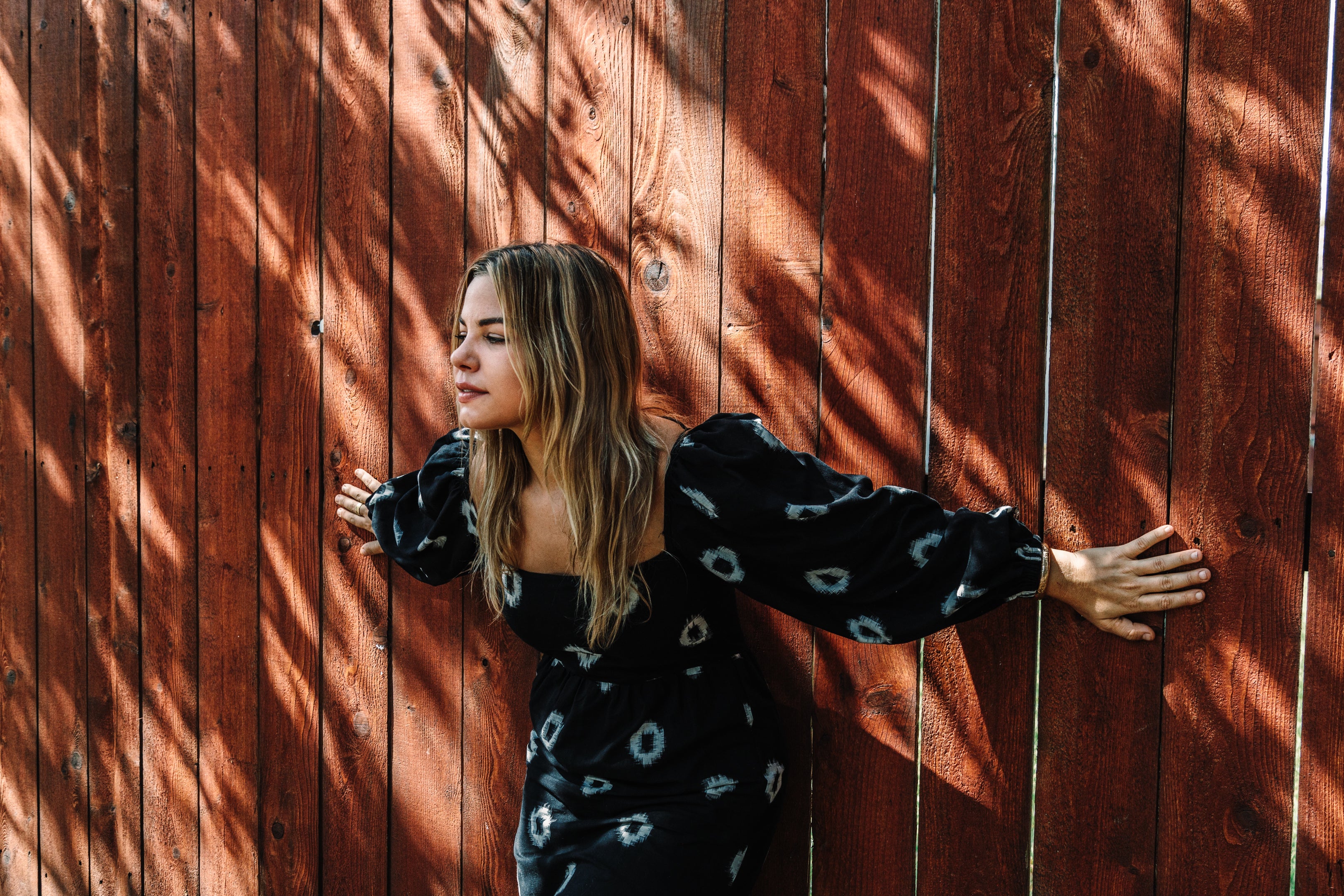 We met musician
Maggie Koerner
at a pre-Mardi Gras masquerade last year, celebrating another one of our favorite Lekha ladies. She graciously agreed to come out to Shivpuri Farm soon after, as we shot our spring 2019 Lekha lookbook. It was then that I realized her powerful, inimitable voice is just one piece of what makes this woman who she is. Steadfast in her beliefs and loyal to her core, Maggie has quickly become a confidante and woman I am inspired by. She consistently tries to push humanity in the right direction, creating undeniably incredible music along the way.
.
When she decided to relocate to Austin this summer, I jumped at the chance to have Maggie photographed on one of her final days in New Orleans, with her side kick, Tom the tour dog. As I watched (from afar) photographer Emily Ferretti snap Maggie's photos in some of her favorite Lekha selects, she leaned over, picked up her guitar, and just started playing softly. I felt like I was watching something intimate and organic evolve before my eyes. Scroll for more on Maggie, along with photos of her, living in Lekha. 
First off. Your videos in your empty home, sitting on the floor with your guitar. Can we talk about that for a moment!? There was something very intimate about those little spots you were posting. Maybe stemming from its casualness. Was that spontaneous or intentional?
Thank you, Trish. It was spontaneous and it was intentional. I was just feeling it in that moment. Sometimes I feel like a vessel and the songs are working themselves out through me and that's where I was in that moment. The spot where I am sitting in the video was where the light and the acoustics felt nice in that empty room. I've been writing that song for the past few months and posting its progress in my stories. I'd sit as my desk, record videos of myself writing it and post them in Instagram stories because so many people were sending me DMs or texts saying how much they liked it, resonated with it and had the chorus stuck in their heads. I knew I wanted to make a video in my empty home before I left because that was where the song was conceived in the trenches of Covid and sobriety.
Have you always known that music was your calling — that you were going to be a musician? Or was there a pivotal moment when you decided to full-heartedly pursue this?
Well, I have always wanted to be a musician ever since I was very little, and I believe it took me a long time to realize it was a tangible dream, 22 years old to be exact. There was definitely a pivotal moment. I met a man, an actor, the summer after I graduated from college and he convinced me to pursue a music career for at least a couple of years. He told me that I would regret it if I didn't and eventually resent my life if I never tried to make my dreams come true. That lit a fire under my ass and was the day I decided to "postpone" grad school and become a waitress at my Dad's restaurant instead.
We were chatting the other day about Covid new beginnings. Amidst all of the havoc that Covid has wrought, small, beautiful things have also blossomed. How are you feeling about making the move and starting a new chapter?
Covid made us all pause, right? So I believe it enabled me to ask myself, "What do you really want out of life, especially right now?" I want to keep writing and playing music for a living, I want to be closer to my family in San Antonio, I want a life companion, I want a child, I want to be near water, I want to help others, and I want to feel myself grow even if it gets uncomfortable. I believe in my bones that I've made the right choices for my life, especially lately, as a sit in my new home in Austin. When you know you know in regards to big life changes. I was ready to shake things up and the cabin I found on Lake Travis is another dream come true. I am so grateful to be here with my dog, Tom, and I know even more creativity is going to flow through me here.
How has the current climate shifted your creative process — or has it at all — for better or for worse?
For the better, for sure. It's forced us to stay home so I find myself picking up the guitar or sitting at my piano multiple times a day just letting whatever wants to come out to do just that. And it helps that I am pressing record on my phone when doing so. I also got dropped from my label a couple of months ago because of all of this, and that's really forced me to reevaluate my life. My timeline and immediate plans went out the window and this allowed me to stop that hustle rat race mentality which is not conducive for connecting to your creativity. The sole purpose is not based in fear anymore or towards the goal of advancing my career or to get a platinum record. Instead I am making art for arts sake again like I used to when I first moved to New Orleans and that feels so wonderful. Silver linings are everywhere if you're paying attention.
Being from New Orleans, following your music, I know you've collaborated with some incredible artists like the Revivalists, Galactic, Shakey Graves. Is there anyone you're itching to play with that you haven't thus far? Or write with?
Now that I am in Austin I would really like to work with Shakey Graves again and also Patty Griffin and Gary Clark Jr. And I will always dream of collaborating with Radiohead, Feist, and Kendrick Lamar.
Do you have any mantras that you live by or turn to?
"One day at a time" and the serenity prayer.
And now for our rapid-fire questions... 
Dawn or dusk: Dusk
Go-to snack: Blueberries
What are you currently listening to:
 My Spotify playlist
"2020 y'all"
Something you find underrated: Not drinking alcohol
Something you can't live without: Besides Tom, sparkling water — Topo Chico is my favorite
Favorite spot in New Orleans: City Park on City Park Ave under the oak trees and Spanish moss