Indian Tented Family Meal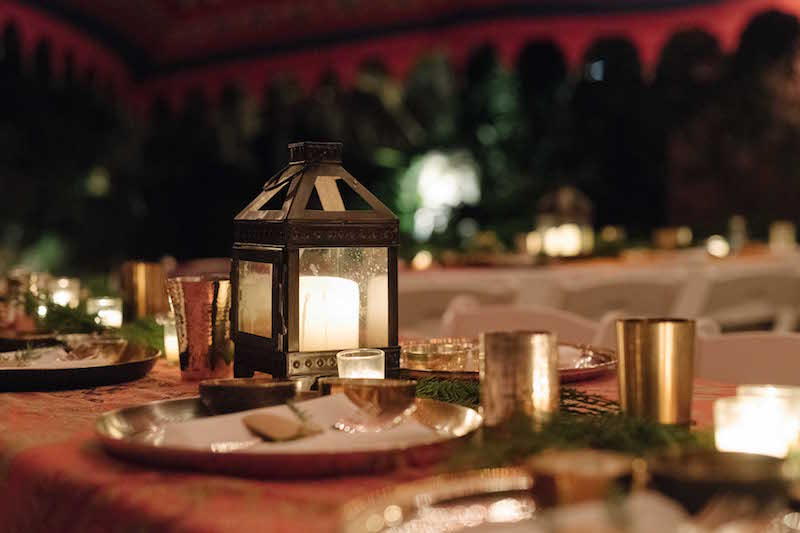 In a show of appreciation to our wonderful New Orleans community, we hosted an intimate family dinner at the home of our founder. Customers, friends, and family were all invited to preview our winter collection in anticipation of its launch at Sunday Shop on New Orleans' Magazine Street. What transpired was an evening of love, laughs, and libations under Trishala's family's antique Indian tent.
The support of our community, both in New Orleans and globally, is what feeds our creativity, and what motivates us to keep pushing forward. It is what inspires and encourages us. Underneath the tent, with the crisp air of fall around us, we kicked off the holiday season, and our collection launch, in the best way possible. 
Tables were dressed in gold, brass and silver; we were surrounded by an abundance of color and shimmer, with a backdrop of jungle-like greenery. Samosas, paneer makhni, kali dal, and cashew jasmine rice filled the traditional Indian thalis and katoris — the fragrant, warming smell of gharam masala and turmeric flooding the crisp air of the courtyard. 

The amazing ashwin vilkhu of Saffron Nola created a beautiful mango-chutney-infused Bourbon Old Fashioned. Our friends left with craft boat handmade, recycled jaipuri notebooks and their own Saffron Nola mango-chutneys, packaged in muslin bags hand-embroidered by The Saheli Women (an organization outside of Jodhpur that we have become very close with and are consistently inspired by).
Scroll through for more images of this Lekha lifestyle evening, photographed by Patrick Niddrie.