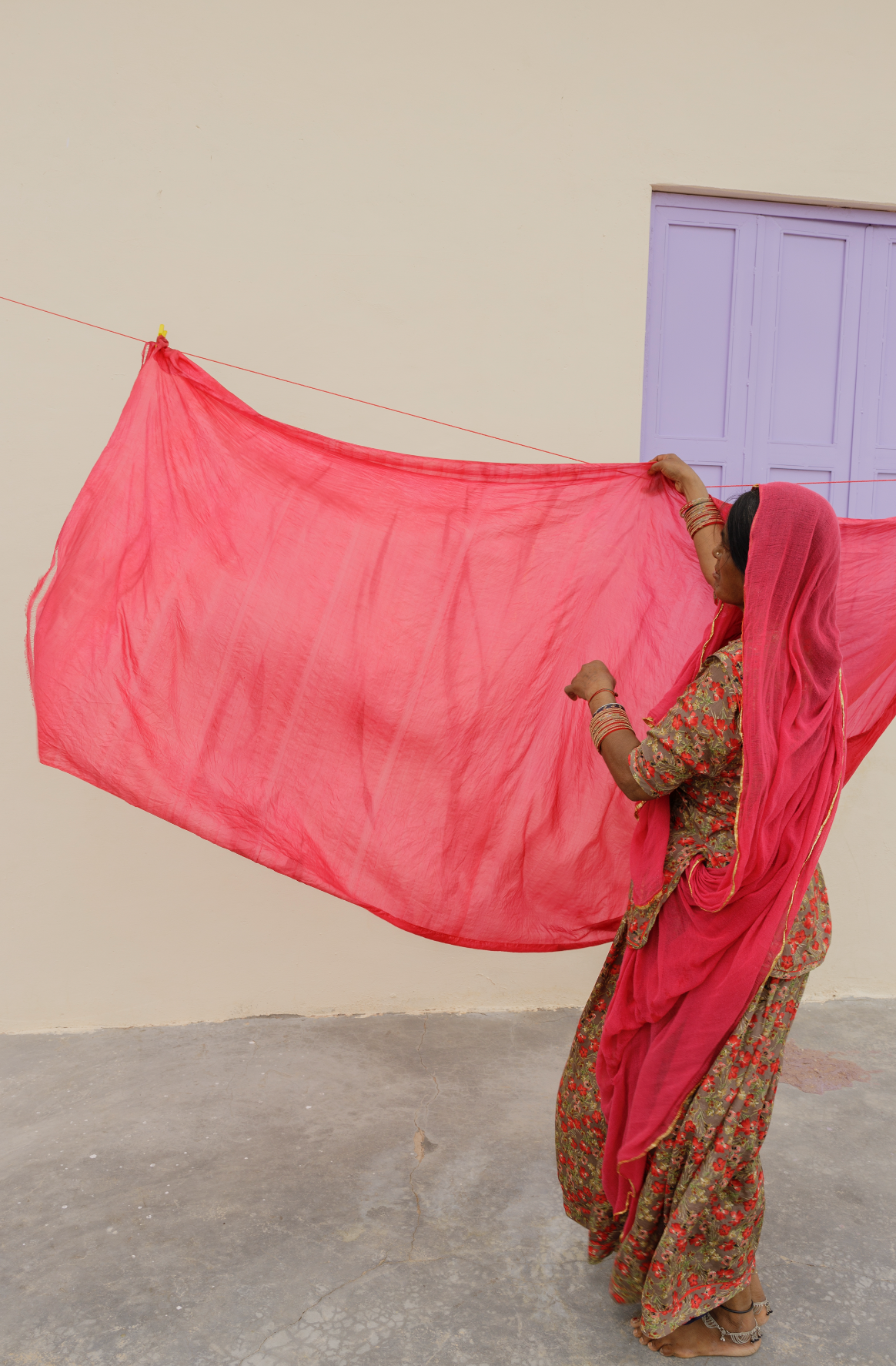 Lekha works with the Saheli Women to naturally dye handloomed silk in their workshop. This exciting new exploration into natural dyeing techniques began with madder, marigold, and iron, which are first gathered in their raw materials. 
As these women are unable to read, learning and retaining ratios to gauge color is done by eyeballing. They have developed their own system to be able to perform the necessary processes, which demonstrates how capable these ladies are of overcoming challenges with ingenuity and determination. They carefully track and record percentages of each natural powder to establish Lekha's signature colors. The fabric is then dyed by hand in a small metal bucket.
Given the nature of hand-dyeing using naturally-sourced materials, there are certain blemishes and spots in each dyed fabric batch. While the women aim to replicate colors exactly and create uniformity, imperfections are part of the beauty.
The entire process is eco-friendly, sustainable, and circular. As the dyes are biodegradable, all water runoff and waste from the dyes is used to irrigate and fertilize the gardens in the village, which is good for the soil — especially during the dry season. And because the natural powders are nontoxic and beautifully fragrant, the workshop smells amazing! This is truly the opposite of the chemical dyeing that you find in large factories, which not only exploits workers in terms of wages but creates unhealthy, dangerous working environments. What the Saheli Women have created is a safe, healthy, and beautiful workshop environment where the artisans are happy to be doing their art, the natural world is cared for, and the person who purchases the garment can feel good about their role in supporting such a positive organization.