Sara Perez Ekanger of Antigua Floral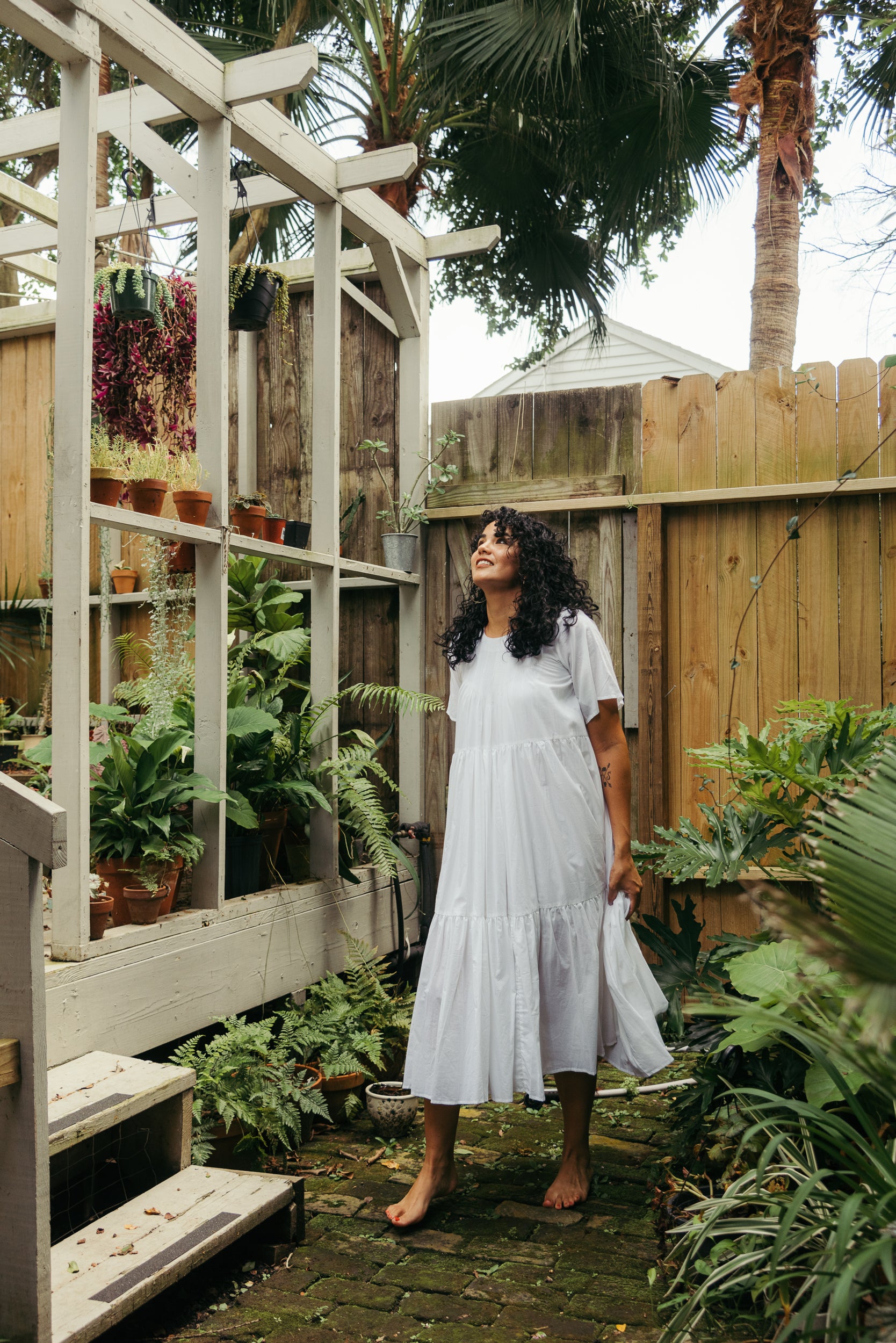 I've been following local New Orleans floral design studio Antigua Floral for some time now, fixated by posts of gorgeous dahlias and installations large and small. In true New Orleans fashion, mutual friends finally brought us together. I met Sara at an event last year and further over Zoom happy hours during Covid. Admittedly, I initially suppressed a little bit of my fan-girl attitude about Sara — she is sweet, sincere, and incredibly talented; her work is inspiring, yet soft and inviting (something we strive for with Lekha). We're excited to see all of the great things that come from Antigua Floral in the future, and grateful that Sara is part of our Lekha community. 
Scroll through for photos of Sara living in Lekha in her beautiful yard in New Orleans, shot by Augusta Sagnelli. 
Can you tell us a little bit about your background, and the early ideation or spark that started Antigua Floral?
I grew up in the San Francisco Bay Area and early on developed a love for nature, in part because of my mom, who always had plants and flowers in our home. I've always had a passion for colors, patterns, and plants, and totally credits California upbringing, Salvadorian family heritage, and Latin America travels.
 
When we moved to New Orleans 7 years ago, I started working in floral design and events. I loved the hustle and hard work with events, yet designing with gorgeous botanical ingredients. Antigua Floral began as a "what if" dream that seemed distant. With the encouragement of the community, friends and my husband, it became a reality and really proud of who she is today. 
How has your perspective changed from the beginning of quarantine until now? What are you hopeful for in the future? 
When everything was at a pause at the beginning of quarantine, oh I was devastated. Life was interrupted, our couples who had to move dates were hurt and the overall event industry was hit so badly. Now I can say that I'm doing a bit better emotionally. These wounds are like battle scars now that I oddly will show off one day. 
I'm hopeful in love. I am hopeful that we will all celebrate every win — big or small. It's still a win. 
With a business and industry largely focused on weddings/events, have you needed to pivot in any way?  
So when quarantine first hit, we needed to stay at home. I honestly felt a bit depressed. I wanted to have florals in my space to spruce up my home a bit, but I wanted something a step up from the grocery store. So we started Bueno Bouquets! 
Antigua Floral pivoted to start selling wrapped seasonal  florals for pick ups each week. We believe that bringing florals into your space brightens your mood, reduces anxiety and increases your overall well being. Now, more than ever, we are honored to be able to provide our community with gorgeous curated florals!
 Anything that you've found has provided an unexpected source of joy or inspiration over the past few months? 
Honestly, my plants. I got into growing a few flowers and herbs. Learned tons about propagating plants and repotting fellas. I think getting my hands into the dirt and watching  our garden and plants grow. 
I think that we've all been more focused on building and working on our nests these past few months, and with summer in full swing, outdoor and urban gardens are getting a lot of attention. Can you share any home plant care tips or tricks?  
Become a student of your plants and learn about propagation. It has taught me a lot about patience and growth. As well, you get free little plant babies out of them! 
Like fiddle leaf, snake plants, zzz plants, pothos plants... oh I can go on about this! Ha! 
Do you have any mantras that you live by or turn to?  
Un dia a la vez." (One day at a time.) My parents would always say this to us growing up and I think I'm finally maybe getting it. We can't control tomorrow, but we can take it one day at a time. For today I will do my very best.
We love when interviews do rapid fire questions, so we are going to start this little exercise for our series! Thank you for being our guinea pig ;) 
Last book you read or are reading: Marketing Made Simple by Donald Miller. 
Go-to snack:  Cashews, manchego fancy cheese, and always Hot Cheetos! 
Beauty item you can't live without: My vitamin C face serum 
Something you think is underrated: Schitt's Creek 
Favorite spot in New Orleans: Our home
Floral or material you can't get enough of: Cafe au lait dahlias
Sara wears the Lopa Dress in Coral, the Sonia Dress in Ivory, and the Abha Dress in Teal Floral. Check out Sara's site at Antigua Flora and her Instagram.