Photographer Jamie Arendt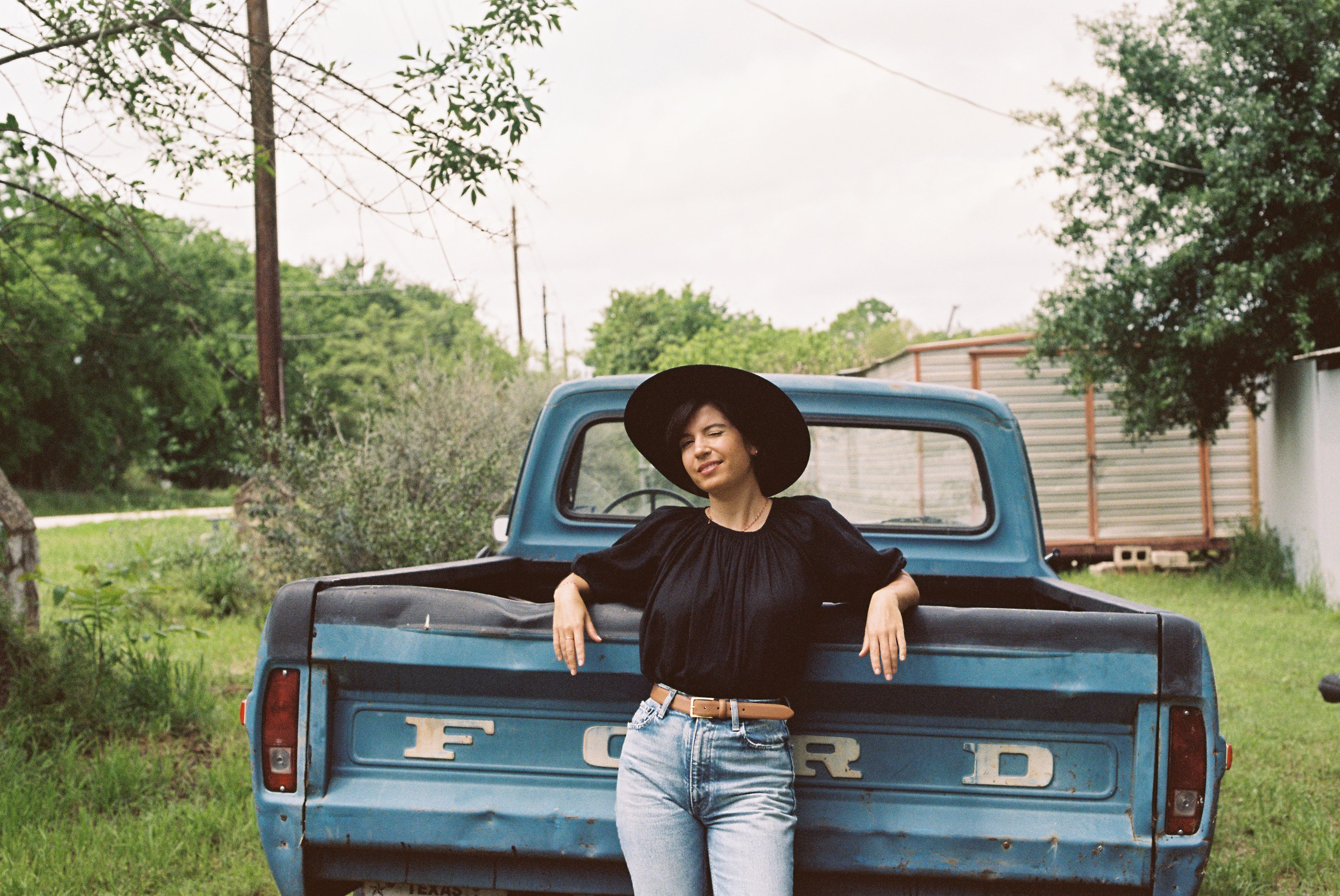 We've been curious about photographer Jamie Arendt for a little while — her work with small, independent brands feels uniquely intimate, especially coupled with her use of film. While we stay isolated in hopes of collaborating with her in the future, Jamie was sweet enough to take a few self-portraits in our newest arrivals on her farm outside of Austin. Since quarantine, Jamie and her partner have been working their garden and selling produce locally in small quantities (2-3 bushels of produce each week) with their new endeavor, @_field.day_. Read on for more from Jamie, with self-portraits in Lekha.
It's a weird time — how are you spending your days? Where have you been finding inspiration?
It's such a strange time, but in many ways the seclusion we are in is something I had semi-self imposed starting January this year, so I feel like I had a bit of a head start. I find inspiration in small routines and simplicity. When this all started my partner and I started having a candlelit dinner each night, and we haven't missed a night, even if dinner is an omelet and wine. It was this accidental happening that now brings this excitement to routine.
I have the luxury of living outside of Austin, only by about one mile, but it makes a large difference. All of our "neighbors" are small to medium sized farmers. 
My partner and I usually have coffee and breakfast together — we have to make sure we let the chickens (Clop-Clop, Little Tina and French Riviera) out of the coop and the two ducks we acquired back in January. We named the ducks Ding-Dong because they are inseparable and have been since they were four days old (they have literally never been more than four inches apart), you can hardly tell them apart, and our chickens are light years smarter than them. Chickens are so smart and curious! We also have two baby chicks (Pecorino and Sarah) so everyone has to get fed and watered. Our 11 year old dog, EZ, then slowly rises and gets fed and watered, along with the garden.  
Then I might read, or go into the studio or do a Pilates online class with @thepeachhouseatx. 
My routine is all about weather if it's sunny and hot I tend to get outside quicker. I run two — three days a week and then rinse in our outdoor shower, which we recently designed a new showerhead for. My partner and I have built quite a bit of furniture over the time. I mostly design and he builds. This will soon all be photographed and can be commissioned. For now we are just furnishing our house.   
I've been working on a new photography series, which is slowly building. I am pretty slow. Looking forward to my second book/zine.
Around 6pm I like to be reclined in my lounge chair — which my partner also recently built me, reading, and try to have aperitivo before cooking around 7pm. This often includes picking something from our garden and maybe another outdoor shower.
Candlelit dinner, chess, Scrabble, Tiger King, reading.
Oh — close the door on the coop! The chickens and ducks naturally go in at sundown. It amazes me every single day. Nature is incredible. 
Tiger King was maybe the first TV show I have watched in two years, and its insanity was a fun departure from reality and overly artistic thinking. The outfits were really in a league of their own. I realized that Eric Goode directed it and remembered working with him a bit in New York for his Turtle Conservatory. Crazy world. 
Finding inspiration in building/making tactile useful things. Furniture, bread making, knitting — anything that feels it can serve a purpose in everyday life.
I feel like bread making should come with a disclaimer that it takes three days and... science.
Socks are really inspiring to me, they can really make or break a day.
Going on week 9 now, anything fun you've been cooking, reading, or listening to?
Ummm… YES!
Cooking:
Cooking we have gotten very into Rancho Gordo beans, specifically Mayocoba, cooking them in the Laila Cooks style and using chicken broth from earlier boiled whole chickens. We are raising chickens and they are about one month away from laying eggs, so we are awaiting living off eggs and lettuce from our garden. The arugula in our garden has become a staple — it's very spicy and we basically add it to everything.
Listening:
When Childish Gambino dropped 3.15.20, I think I ran 10 extra miles that week.
George Michael, Freedom, usually my karaoke dance song to finish a candle lit dinner.
Our record player is spinning a lot of Malatu Astatke. This is my ultimate, my everything. 
Podcast — The Everything is Alive podcast — Episode 21 
Reading:
I just finished Lonesome Dove. Seemed appropriate, as I live in Texas currently and was 825 pages long.
I have a lot of thoughts on this book, specifically as a woman, but that is a lot of paragraphs.
I also finished James Baldwin, Notes of a Native Son. It was my first time reading him and I certainly recommend.
Oh and The Black Mountain Poems, by Jonathan C Creasy. I loved this.
I'm a pretty avid re-reader. When I feel I need to romanticize life again I immediately pick up The Sun Also Rises, Ernest Hemingway.
Or The Woman Destroyed, Simone de Beauvoir.
Or Play It As It Lays, Joan Didion.
I read a lot. Usually three books at a time. I am into triptychs. 
What about good habits or bad habits you've started settling into?
I am an artist/freelancer, in many ways my life is the same, as are my habits…now my partner just sees them all day!
Half a glass of beer at dinner! This is neither good nor bad, but I am a red wine, my whole life! Really enjoying an IPA with just about everything, but I can only drink half. I have to drink out of small cup, which I enjoy.
Normal things like bread making, scarf knitting, painting…. At moments in my life I have also been more of a painter.
Oh I took up rollerblading. I live on a 12 mile bike trail so around sunset I take off blading. I bought roller blades the day this quarantine went into effect, it was the most natural seeming next step to me.
I've been roller-blading too! Hadn't picked them up in probably 20 years. Do you have a go-to stay at home outfit? I've noticed Lekha ladies gravitating to our more feminine muslin pieces, coupled with athleisure.
HA! I get dressed. Getting dressed is a big inspiration for me. I see no need to not do it because I am at home. I change it up each week. I try to get dressed for dinner each night. I fluctuate between pretty feminine and masculine dressing styles. Gravitating towards ankle length gauzy cotton skirts and silk tanks. Being flowy makes me feel light, comfortable and romantic all at once. Plus I am at home so I can dress as sheer as I want! I am also a jeans, leather belt, cotton top dresser — prefer tank or longer sleeve. Oh and I love white. I love to do everything in white. I like classic, lasting things that travel easily. Even if we aren't traveling right now. Muslin is a love of mine, as it is so well suited for hot and cold. I like duality out of my slothing as well. Oh red is my pop color of choice. 
Anything in your home that's provided an unexpected source of joy?
I am pretty selective about what comes in the house. We have this weeding tool that is a great source of therapy. I go out and just hack away at the weeds in the garden, and in 15 minutes, feel much more clearheaded. I have no idea what this tool is called — it is long and two sharp fangs like a snake. Never imagined I would touch it much.
Also our 500lb metal dining table. It is designed and built by us and it is large and brutal and gorgeous. I love the time spent at this table. I don't know how we would ever move it anywhere ever again, it feels rooted in the house.
And mustard. I don't think I could make it without copious amounts of mustard. I put it on everything.  
How has the remoteness of your farm affected your experience in quarantine?
It has made me appreciate my life very much. Only two years ago I lived in NY, I was on my ninth year. I knew nothing really about land or raising birds. My grandparents are mixed immigrants — my grandfather is Iranian and my grandmother Polish — on my dad's side, they always had a few acres in Michigan and small garden/ farm for feeding themselves, I grew up around it so I had some idea… I knew how to pick potato bugs off potatoes for a nickel each! BUT doing it yourself is different. You have to be patient. You know that nature is outside your control, but you watch your plants and animals and you slowly start to learn. I guess in this way I am getting used to being more slow. Understanding what is happening in the world, but also not feeling I have a full grasp on it, I try to stay this course on the tiniest farm. It seems the skills being built could prove helpful moving forward, so I try to think about that and how to grow our farm and furniture building to provide for more people.
Being so remote has made it very awkward to see anyone, even at a grocery store. Eating nightly from your own garden is maybe the most satisfying thing on earth. Anyone that has tried to grow their own food knows the sheer joy in the moment that a plant becomes edible, because it does not always happen, so many things can occur before that moment.  
Have you noticed your process changing at all? Or do you feel your photography style has remained consistent over these past few weeks?
My style has stayed the same, but my subject matter and process has changed, mostly because the subject matter is now me. It can be uncomfortable shooting yourself. Photographers can be very narcissistic, some photographers will argue me on that, you have this ability to show the world yourself through showing how you see the world. Then there is this aspect of you as the subject. Being the physical subject becomes different.
I am excited to now focus on lettuce, bread and eggs. Which was also a collection I had already started but now feels very within grasp. I usually like to shoot more water. 
The outside world, travel, moving, is/was my world and how I create. I had an aspiration to spend more time at home and I am in the personal process of learning what that means for shooting on a regular basis. It's a process and a challenge I readily accept.  
We approach clothing from a place of comfort — we always hope that Lekha wraps our community with warmth and tenderness, thereby being able to go forth and spread that internalized peace with others. In this time it can be difficult to find a balance between personal wellness and being there both emotionally and financially for others. What has been your approach to this?
Wow yeah. As an artist I am always trying to support my personal community in trading or paying other artists for what they create. I love fabrics and clothing and many friends of mine are designers. Anything on my body, at any given time, was/is probably made by a friend or artist I love. Much like how you and I were introduced/connected is the way I come upon friends, brands and artists. It's how each piece in my closet has a little story.
The honest response for myself is that as this time, I am unable to monetarily pay for things that are not essential. For the essential goods, I shop local. I shop other small farms, mostly Boggie Creek Farm,  and local wineries (Lolo Wine) and breweries (Odd Wood Ales, ABGB, St Elmo) for alcohol. For the brands I love, admire, and aspire to support I am sort of offering trade in my skill or what I do as a way of all supporting each other. Still, it is hard because I know brands are struggling more than me as an individual. I try and support the closest of closest friends the most I can while also knowing that my well being depends on me staying financially afloat.
The real reality is that hopefully consumerism, as a mass problem — psychologically and financially — will come to more of a halt. For a brand like Lekha I have to assume your clients already have the awareness of shopping small, shopping quality, very conscious purchases. The hope is that more people will move in this direction. For people like myself this means buying less and learning how to curate a bit more while still supporting the brands I love.
I think for all designers and consumers this is an ongoing process, learning what we can afford and when we need/want it. The truth is, I think many of us (consumers) are past the point of need and are only on the want side of buying. As a business/designer I am sure this will be a new learning curve on how the buying patterns change, quantities to create, etc.
BUT I do see this as a positive, if we can make sure the small brands we love can financially make it through this time. Everyone is becoming more conscious, I hope, me included.