Erin Wexstten of Oxalis Apothecary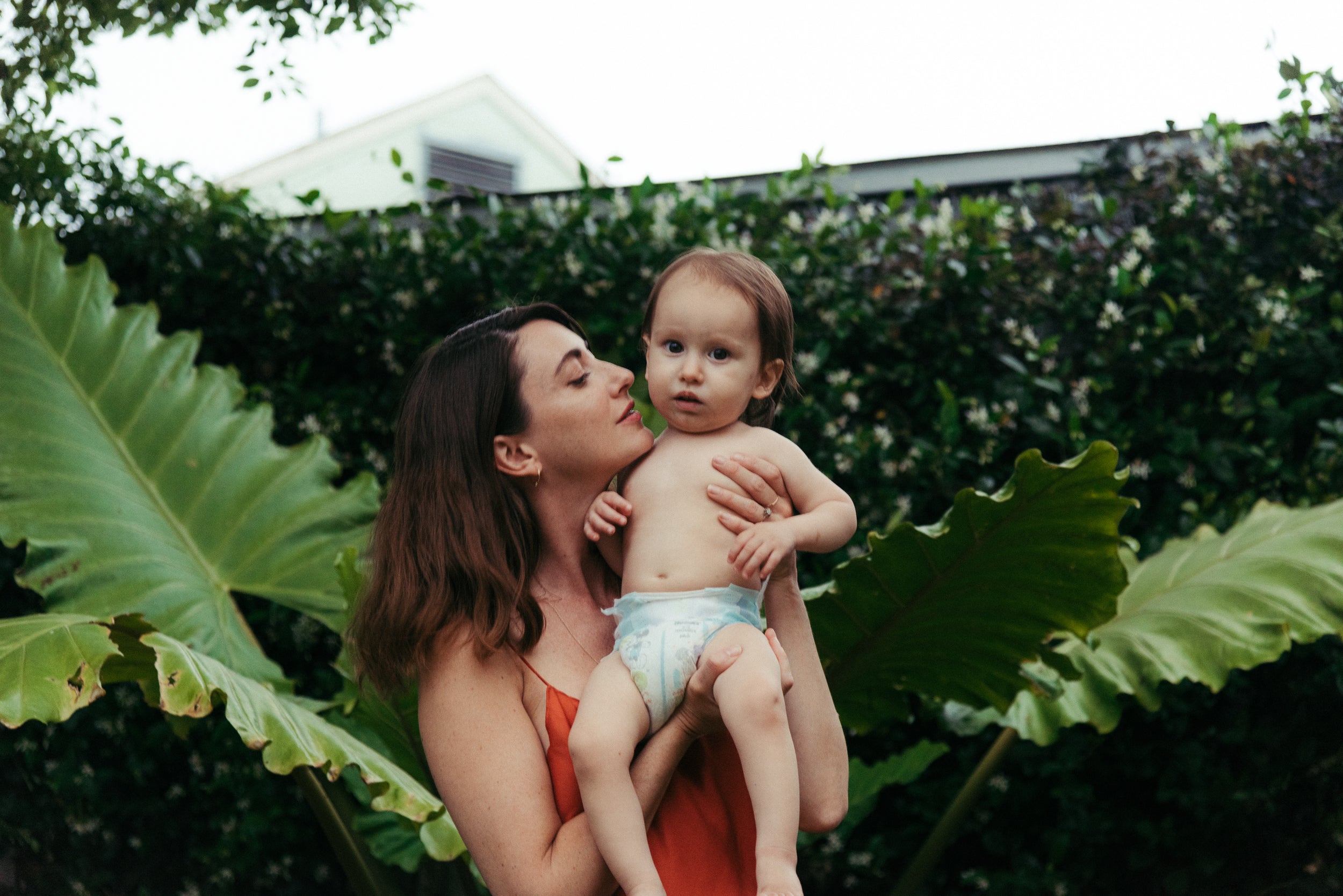 We were introduced to Erin Wexstten of Oxalis Apothecary shortly after we became enamored with her beautiful line of products (that we now consider daily essentials). She grew up in rural Illinois, where she shared our same curiosity and love for nature's sights, smells, and sounds. Now rooted in New Orleans, we are blessed to have Erin in our community of inspiring female creators and friends. Our go-to Oxalis products: Coconut Milk Bath, Reverie Body Oil, and Daily Glow Facial Serum.
Photographed from afar by Augusta Sagnelli on a Thursday afternoon in Covid quarantine, Erin donned a few of our newest pieces in her studio, while keeping an eye on her sweet son Remy. Scroll through for scenes from her garden, and to read how Erin is living in Lekha. 
Where are you finding inspiration during this strange time? We've actually loved seeing how people are spending their days ever since the world has stopped.
I've been spending a lot of time outside in my yard, exploring the growing plants and flowers, as I'm always inspired by nature. My son is 15 months old and really into sniffing all of the flowers and it's kept me from feeling too doom and gloom because it is so sweet. Additionally, I've been enjoying figuring out new crafts and activities for him with things we have around the house, like leftover Christmas stickers on paper towels and toilet paper rolls. Trying to avoid shopping for anything non-essential right now.
What are you reading, watching, cooking, listening to?

I just finished the new season of Ozark, which was so good! I've been leaving most of the cooking to my partner, who is the real chef in our house. Admittedly, we're having a lot of pasta dishes of all kinds. We've also been making lots of yummy meals with frozen seafood, so we don't have to keep going to the
store. Lots of herbs in all of our dishes, which make everything better! And baking, lots of baking. I'm dying to read Untamed by Glennon Doyle and hoping someone will donate their copy to me.
Ok, but we know you make the best playlists. What's currently in your Spotify rotation? 
Ha, making playlists has always been an enjoyable pastime of mine. A few tracks on my Spring playlist that I can't stop playing : "Too Late" by The Weeknd, "Ain't Together" by King Princess, "Tezeta" by Mulatu Astatke, "The People" by Adam Snow, "The Steps" by Haim. All of my playlists are public, check them out!  
The current environment has thrown our routine in flux. Any good habits you've started to form? Or bad habits?! 
We have been taking family evening walks almost everyday which is such a treat for us, as my partner usually works most evenings. It's a great way to put a hard stop to working, which for me, has been very busy as I am managing things by myself right now. Practicing a lot of gratitude for the work I'm privileged to be able to keep doing! As far as "bad habits," I suppose I am enjoying more sugary treats and a bit more wine than usual but hey, can you blame me?
Speaking of being able to work from home, we have to ask: any secrets you can share with us about new product launches coming down the pipeline? 
Oh yes, we have been working on a new facial serum for a while and are currently in the testing phase. It's a super beautiful, luxurious serum for nighttime use. I am very excited and hoping it will launch by the Fall/Holiday season.
I think everyone can relate to the dry hands issue we are all going through right now from over-washing our hands. Any tips or tactics to combat this? 
If you can get your hands on soap that isn't too harsh, even a bar of natural soap, that will help keep hands from getting too dried out. I like to apply a couple drops of any of our body oils a few times a day while my hands are still damp. At night, I have been massaging the leftover oil from our new night serum into my hands, but I always do that! 
Yes, newly hooked on the Oxalis Reverie Body Oil. So glad that was just added to the nightly rotation. Anything in your home that's provided an unexpected source of joy? 
Not a huge surprise but, all of my plants and natural sunlight that peaks into our home everyday. My assortment of handcrafted coffee mugs that I have been collecting slowly over the years, along with the coffee itself. I haven't stopped to really appreciate all of those simple comforts enough and they fill me with a lot of joy.
Do you have a go-to stay at home outfit? 
Obsessed with my Lekha cotton drawstring pants and shorts because they are like wearing chic pajamas. I pair them with a linen or raw silk t-shirt style top and slip on my Birkenstocks for an easy, comfortable look. 
Well, we love hearing that! How does wearing Lekha make you feel? 
Comfortable, chic, and at ease. I feel like myself.
We approach clothing from a place of comfort — we always hope that Lekha wraps our community with warmth and tenderness, thereby being able to go forth and spread that internalized peace with others. In this time it can be difficult to find a balance between personal wellness and being there both emotionally and financially for others. What has been your approach to this? 
The last month has certainly been a roller coaster of emotions, but I have found comfort in the fact that we are all in this together. It's been important for me to manage my expectations of myself and others, as we are all experiencing this as individuals and that looks different for everyone. Talking with friends and family everyday, checking in and having virtual happy hours and dance parties on the weekends has been a great release. I've been aiming to support a small business every week and have made donations to nonprofits, local djs, and spread awareness on social media about brands/movements that I love. We have an incredible community in New Orleans and it's been inspiring to see all of the ways people are coming together to help each other. I hope we can remember this strange but important time of surrender with gratitude and truly appreciate all that we have. 
Erin is photographed in the Keya Slip Dress in Terracotta, the Bani Caftan in Cream Flax, and the Daya Caftan in White Muslin.
For more on Erin and Oxalis, follow her Instagram at @OXALISAPOTHECARY.