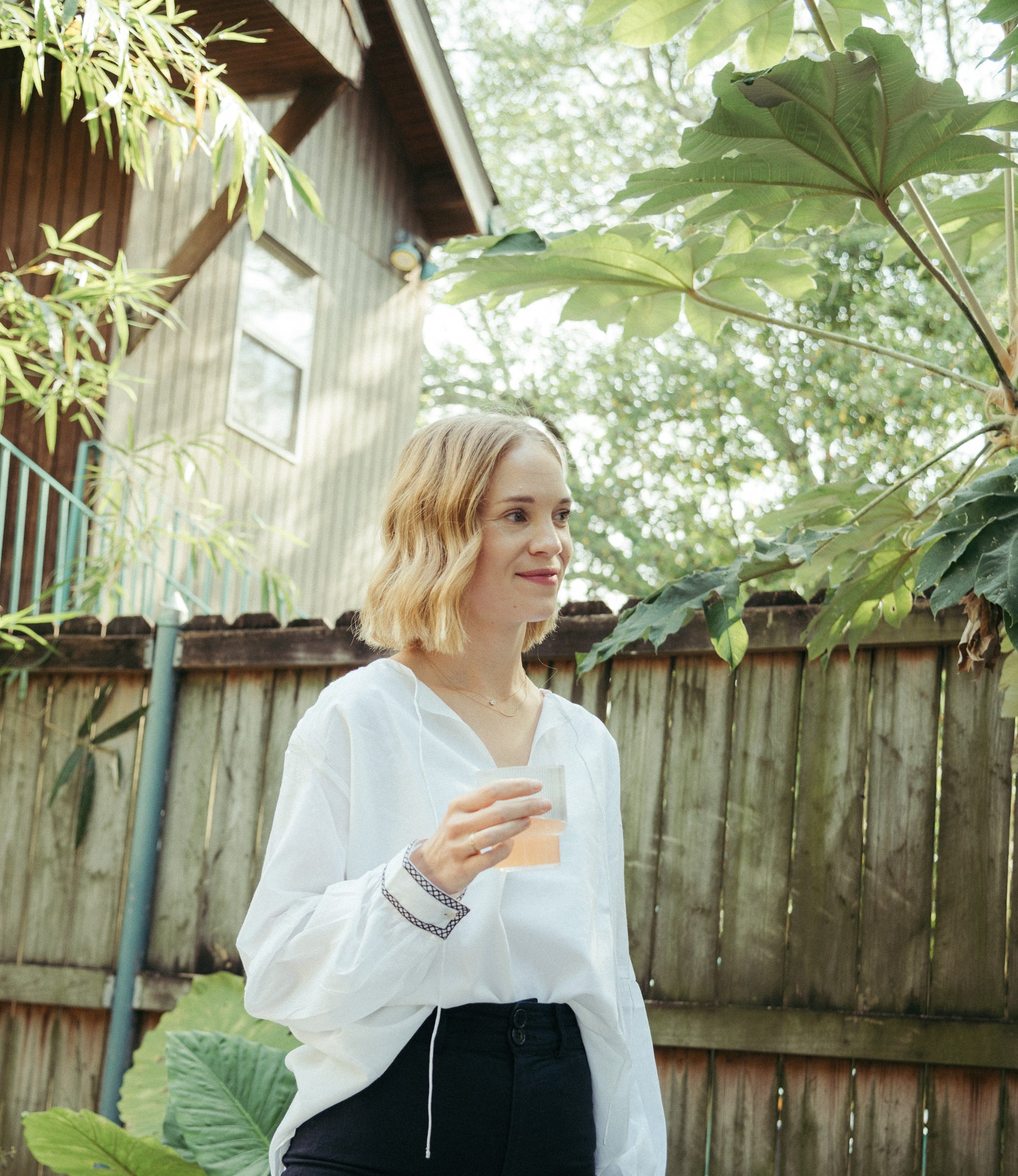 Anna Thomas welcomed us into her sweet New Orleans double-shotgun property, The Louie, last winter for our Holiday 2019 collection launch, and we fell in love with the impeccably curated atmosphere she had created. She and her husband Tim lovingly restored the place, modernizing where needed, to create a warm and approachable home-away-from-home, completed by its garden oasis, draped in jasmine. The Louie perfectly embodies New Orleans' ease, authenticity, charm, and hospitality, just like its proprietor. Our go-to for an unexpected referral, a home improvement tip, and, on seldom occasion, some freshly picked citrus, Anna is as refreshing as the sweet rental experience she has created.
Photographed from afar by Augusta Sagnelli on a Thursday afternoon in Covid quarantine, Anna donned a few of our newest pieces, accompanied by her gentle pup Penny. Scroll through for scenes from the exterior of The Louie, and to read how Anna is living in Lekha. 
It can be such a challenge to stay creative, busy, and keep our minds moving in a positive direction during this time. Where are you finding inspiration in the days of coronavirus? 
I've gone back to basics and found that I'm drawing inspiration from all things analog — cooking, gardening, listening to records, and going for walks or bike rides. There's something about scarcity (of social commitments, groceries, etc.) that invites creativity. It pushes me to think differently and beyond what I've been conditioned to.
Anything fun you've been reading, watching, cooking, listening to? 
With the exception of watching Tomorrow Never Dies (the OG bond flick) and the occasional garbage reality show, I've been trying to minimize my TV consumption and instead explore new music or catch up on the 15+ New Yorkers I have yet to read. I've resurrected all of the gorgeous cookbooks I've accumulated over the years and methodically flag recipes to make. Never felt more like an adult. I joined a CSA (community supported agriculture) program and have loved getting better acquainted with what's local and seasonal. I made an ancho chili and lentil stew with local sweet potatoes, swiss chard, and cilantro last night that was pretty killer.
We've been experimenting and trying new things out as well — and that sounds delicious! But going in to week x, or day y, any good or bad habits you've started to form? 
On the good side, I've been regularly active every day, which has lent to both sanity and a sense of accomplishment to what can otherwise feel like bonkers work days. Cooking has been a therapeutic win too, as has a regular house clean so I can enjoy the environment more and be less distracted. On the bad side, my wine consumption is up. 
Has your beauty routine shifted or changed at all?
I've taken this as an opportunity to nurture my skin a bit more than I would usually — masking and exfoliating every couple of nights, rotating serums (Vintner's Daughter is a favorite), and sunscreening/Vitamin C-ing amply during the day. With the exception of Zoom meetings, I've gone entirely makeup free. It feels great.
Any products that you're indulging in or that make you feel brighter?
I've incorporated Oxalis Feel Good into my nightly routine and it's been a game changer in feeling calmer when I sleep. On days that are drier, nothing makes my face feel brighter than a good slathering of hyaluronic acid. I love the Skinceuticals one.
You know we fawn over our Oxalis! Feel Good is such a restorative one. Anything in your home that's provided an unexpected source of joy? 
Every week I buy or forage for flowers. They instantly change the vibe of the room and make it feel friendlier, more composed, and natural. 
Do you have a go-to stay at home outfit?
I oscillate between athleisure and giving a damn, with a strong preference toward comfort and lovely fabrics. Lately, as the weather has warmed up, I've been rediscovering the caftan collection I've amassed in the three years I've lived in New Orleans. I love how versatile, beautiful, and simple they are.
We are big proponents of a go-to Lekha Caftan. Any feelings or reviews?
Wearing Lekha makes me feel airy, calm, and naturally beautiful.
We approach clothing from a place of comfort — we always hope that Lekha wraps our community with warmth and tenderness, thereby being able to go forth and spread that internalized peace with others. In this time it can be difficult to find a balance between personal wellness and being there both emotionally and financially for others. What has been your approach to this?
I subscribe to the cliche that you can't help others until you help yourself. When I'm at my personal best, I find that I'm also kinder, more empathetic, joyful, and friendly to my family, friends, and those around me. So I focus on that — being thoughtful about how I can improve my own mind-state so I can impart that on others. Appreciating what I already have, being present, and deflecting tendencies to dig into minutia, pet peeves, or stressful "what-ifs" has been so important.
Anna is photographed in the Keya Slip Dress in Teal, the Jamini Top in White, and the Daya Caftan in Terra-Cotta.
For more on Anna and The Louie, visit her site or follow on Instagram at @thelouienola.