living in lekha
Molly Fienning of Red Clay Hot Sauce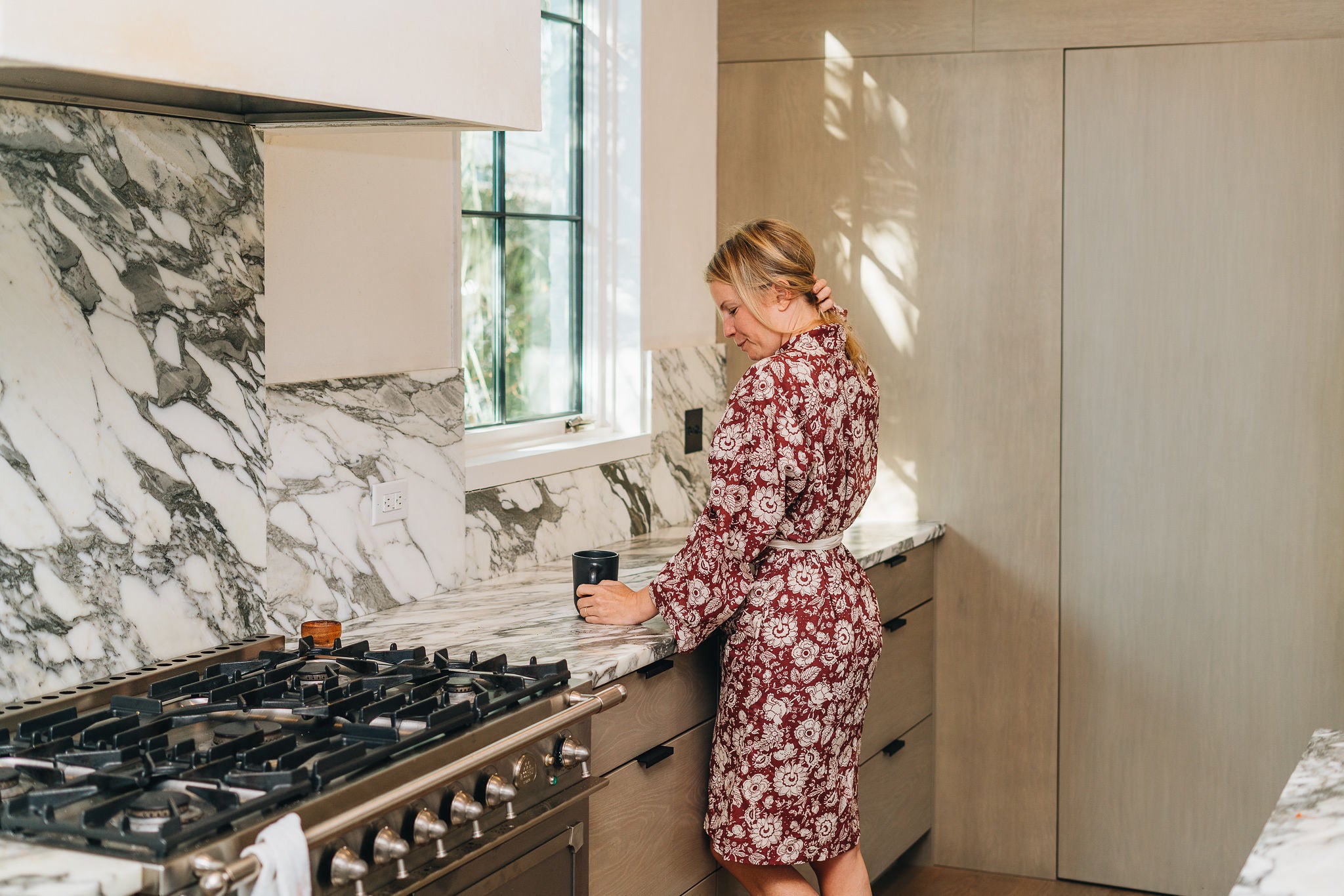 From the couple of times we've brought Lekha to Charleston, we've been swept away not only by this stunning, charismatic city, but by the charm of our friend Molly Fienning, founder and owner of Babiators and Red Clay Hot Sauce. Molly perfectly epitomizes Southern hospitality and warmth, with a hearty dose of New York City sophistication. And to top it off, she's a champion of women-owned businesses. Molly graciously invited us into her beautiful Charleston home to show us how she lives in her Lekha and leads — as a mother, business owner, and community member — with love. 
Thank you for having us to your home! First, can you give us a little bit of your back story? Where are you from originally, and what brought you to Charleston?
I'm from New York City, born and raised, and met my husband, Ted, in college — even though we didn't date in college; we started dating five years later. He's a Southern boy from South Carolina. When we re-met and fell in love, we knew Charleston was the place for us. For me, it's a city full of interesting people, progressive thinking, and great restaurants. Over the past nine years, we've both completely fallen in love with Charleston.
After almost a decade in Charleston, what's your favorite part about living here?
There's a phenomenal community of female business owners who inspire me, support me, and understand the juggle — balance, lack of balance — of it all. That, in addition to my family's support, really helps me get through the ups and downs of growing a business. 
Yes, you've founded and grown two very successful brands — 

Babiators

and

Red Clay Hot Sauce

. Did you always know you wanted to be an entrepreneur? How did you set out on that career path?
My husband graduated in 2001 and 9/11 happened a few months later, and he enlisted in the Marine Corps the day after. When we re-met, I was moving to Washington, D.C. for a technology job. I majored in computer science engineering in college, so my background was in technology strategy and I was working on an international security project. My first weekend in D.C., Ted flew up for a mutual friend's party. Four months later we were engaged and I was living in rural Mississippi on a Marine Corps base. I knew I could no longer do the traditional tech-centric jobs I'd been focusing on. Given the nature of picking up and moving every six to eighteen months with the military, I wanted to do something I could take with me and do from home. So, I ended up in entrepreneurship that way. It's been the most wonderful blessing, because once I stepped into that role I knew it was the role I was always meant to have, and I loved it. I loved wearing all the hats, starting from scratch, thinking outside of the box, and all the different things you have to do as a founder of a new business. 
Your story is inspiring! And so is the incredible growth of your companies — especially with Red Clay now in Fresh Market, Whole Foods, Publix, and soon Target. Is there a particular Red Clay product you're incorporating in your entertaining this holiday season? 
I love the very traditional Southern appetizer of hot pepper jelly over cream cheese with crackers and crudités. We have our elevated version of that, which is our Hot Pepper Conserve. It pairs well with traditional cream cheese or your favorite creamy goat cheese. The spice and sweetness of the pepper jelly is a fun holiday addition to your cheese board. You could also use it instead of mint jelly with lamb, or instead of a chutney, or as a sweet-and-sour sauce on vegetables as a side dish. The Hot Pepper Conserve really lends itself to the season, with the sweet, spicy, cozy vibes it gives. I also love a Hot Toddy at Christmas. We use our Hot Honey in the Hot Toddy for some sweetness, with apple cider and bourbon. 
We're honored to be invited into your home to see how you style your Lekha and to introduce us to your sweet family! How would you describe your personal style?
Feminine and flirty, with a bit of an edge. I always like to have a nipped-in waist, since it's visually flattering. The beauty of getting older is you know what works for your body type, and I know I like having that nipped-in waist in my outfits.
Can you tell us about your design ethos in your home?
We're a blend of North and South vibes, as a city girl and Southern boy. So I really love the inside to have an urban, loft-like minimalist feel. We purposefully didn't put in molding or baseboards in our home when we built it. Most Southern homes have more ornate detailing than ours. The outside honors the historic Charleston vibes, and the inside feels more like a New York City loft with open space, high ceilings, bigger rooms, and fewer rooms. I also like the base of the home to be neutrals, and to use art as pops of color. Whenever possible, I prefer to buy from Southern artists, specifically female artists, to support them.
You're truly a champion of female-led small businesses! Who are you shopping from this holiday season?
Of course Lekha. I love the mustard yellow Swati dress, and to style it with a cozy teddy bear coat, suede aviator coat, bomber jacket, or leather jacket. Another female entrepreneur who I've purchased a lot of gifts from for the holidays is El Guapo Bitters, owned by Christa Cotton. Trish, Christa, and I have some fun things in the works for 2022. My boys love Partake Cookies. The amazing Denise Woodard is the Founder/CEO and a friend. She came out with a couple holiday limited-edition flavors, so I made sure to get some of those. My friend Liz Adams recently launched a site of her curated favorite home and family goods. It's called Olive Lane. I love scrolling Olive Lane to get gifts for our home and friends' homes, too. 
Can you share what you and your family are looking forward to this holiday season?
We made the decision to be at home for Christmas Eve and Christmas Day, and to have Christmas Eve at our church where our boys can be in the pageant. We love doing the tradition of going to the Feast of the Seven Fishes at our favorite Italian restaurant, Michael Toscano's Le Farfalle, right after the Christmas service, then going home to get cookies and carrots ready for Santa. We cook and have family over for Christmas Day. Then we're headed up to New York City to see my family and for the boys to see their cousins. We do New Year's Eve with our college friends — a singing, cooking, cozy New Year's Eve outside of New York City. 
Do you have a mantra to live by?
Only love is real, and everything else is an illusion. That's how I like to start the day. I do my best as a leader, as a mom, as a wife, as a friend to lead with love always and not let the other stuff get to me. 
Those of us who are travel-obsessed want to know: If you could go to one place in the world right now, where would you go?
I'm so inspired by what Trish is doing in India. Ted and I spent a month in South India where we got engaged 15 years ago. We have not been back yet. I would love to go to India and explore the north of the country, visit some of the spots where Trish sources from and works with those amazing women, and see the tiger preserve in Rajasthan. So I think it would be visiting India, in the spirit of our couple's family roots, where we committed to being a family together, but also being inspired by Trish and what she's doing. 

Where are you finding joy and inspiration right now?
Obviously, first and foremost, being a mama and watching these two boys grow has been the best, most inspiring thing. I realize parenthood is about support, boundaries, and to love on them — but also get out of their way, let them be who they are. Watching my two boys, who come from the same genes, develop into two totally different humans is completely fascinating and inspiring. Being a mama of sons has been such a joy. During the day, when they're at school, I'm really loving working on Red Clay. I'm inspired by the people I work with. Our team has really knocked it out of the park this holiday season. Watching them step into their power and run, and me get out of their way, too. Basically, leadership is just hiring and partnering with good people, showing them love, and getting out of the way — whether that's being a parent or a CEO.
And now for the rapid-fire round!
Last book you read or are reading: Becoming Trader Joe, the autobiography by Joe Coulombe. It was great; he's a genius.
Something you think is underrated: Going to bed early
Something you can't live without: My boys. And a morning cup of coffee.
Favorite spot in Charleston: My favorite restaurant is The Ordinary. I also love our front porch.
In the mountains or on the water? Both. I need the balance of both. I like living on the water but my body craves the mountain a couple times a year.
Sunrise or sunset? Sunset
Dream dinner guest? Cleopatra
Go-to snack? Green tea with a piece of chocolate
Molly wears the Swati Dress in Strawflower, the Hansa Robe in Burgundy Floral, the Kamla Kani Skirt in Black, the Keya Slip Dress in Shaved Chocolate, and the Bhujodi Duster in Navy. For more from Molly, head to her Instagram page!