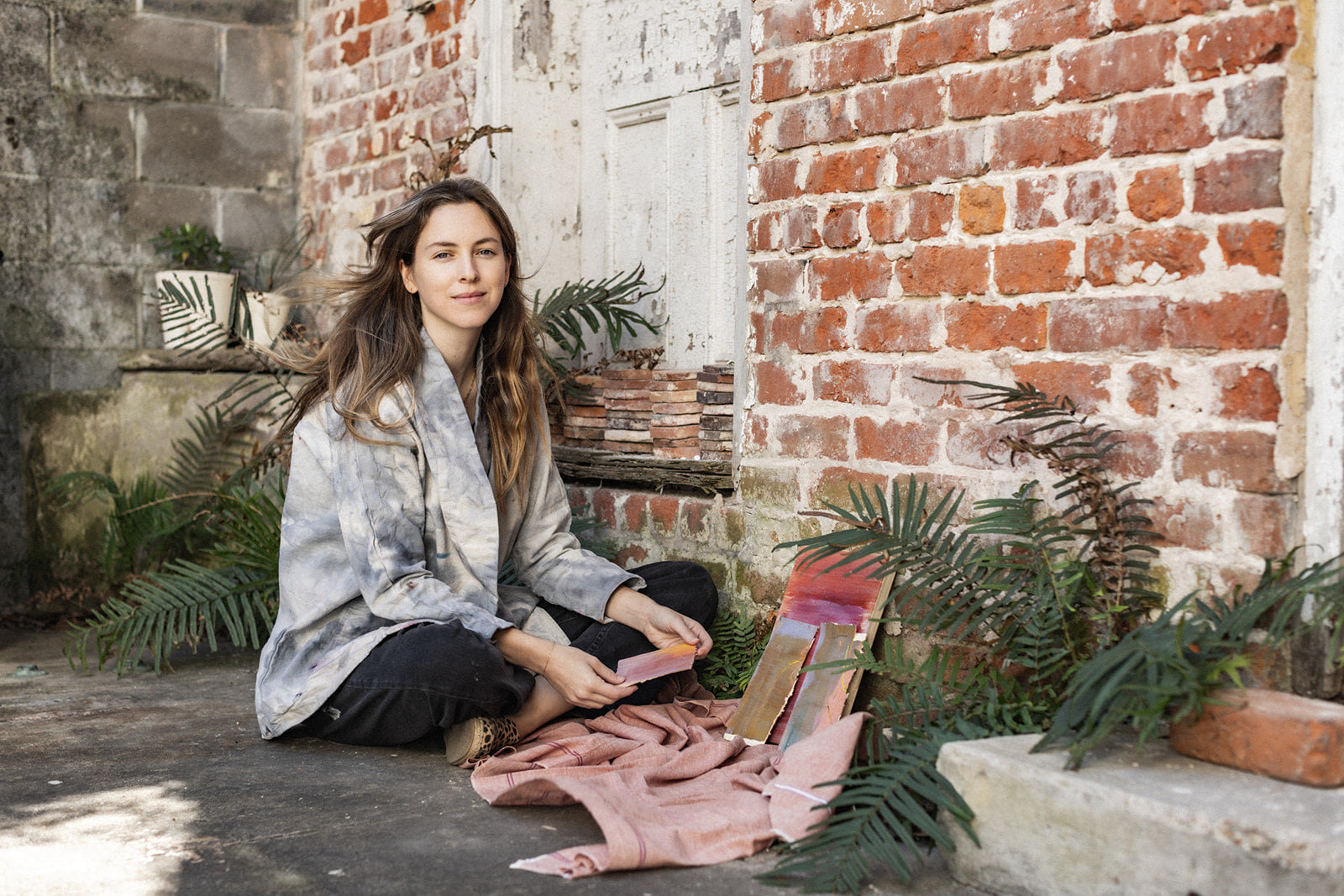 In true New Orleans fashion, only after we met artist Helen Kohnke did we realize we were connected on multiple levels. Helen's work (and, we might add, personal style) is effortlessly beautiful, full of reverence for the natural world and our place in it. Inspired by her surrounding environment, she captures the beauty inherent in New Orleans' entropy and decay. We've long been fans of her work, and were giddy when she invited us into her lovely apartment overlooking Magazine Street in New Orleans' Lower Garden District.

We chatted with Helen about New Orleans, inspiration, and what comes next, and are honored to feature her in our #livinginlekha series and to introduce you to such a sweet soul.
Helen, you were living in New York City for many years, but recently moved back to New Orleans, where you were born and raised. We're so glad to have you back! What brought you home?
 
After college in Dallas, I moved to New York and lived there for seven and a half years. Initially, I worked for the artist Dorothea Rockburne, which was a great experience, then worked a few side jobs, and ended up getting my MFA from the New York Studio School in Greenwich Village. After school ended, my lease was up, and I had reconnected with someone from New Orleans who I had known — well, basically I found my partner. Both of our families were still in New Orleans so we decided to move back home. Now we're engaged, and getting married in April. When we moved home, we found an apartment on Magazine Street in the Lower Garden District. It's great because we have a balcony on Magazine, and space for my studio, and a courtyard in the back that has been my studio, my inspiration, and muse. We're moving soon to the Bywater and doing some renovations. I'm sad to leave this place, but I'm soaking it up while I have it.
   
Yes, it's gorgeous! Thank you for inviting us into your space, to see your art and to photograph you in Lekha. Tell us about your path to becoming a professional artist. Did you always know it was what you wanted to do in life?
 
I was always drawn to art, even when I was younger. I had dyslexia as a kid, so art was my creative expression. When I went to college, I started taking more art classes, and realized this is my passion so why not go for it. I moved to New York on a whim; I had only ever visited once as a kid, but felt drawn to go there and pursue my art in a new place. What I took away from working for Dorothea Rockburne and the MFA program was to be true to yourself as an artist. It doesn't matter if you can perfectly draw or render a figure, or if you paint on canvas, or draw from life. I realized it's much more of a spiritual practice. There's no right or wrong way. There is just your way.
 
That's beautiful, and applies to so many things in life. is there a particular ethos or approach that you're drawn to in your art? Has being in New Orleans impacted your work?
 
My work is about my surroundings and environment. For my MFA show, I did a series of the stairwell that led up to my attic work space. Now that I'm back in New Orleans, where I'm painting outside, I'm incorporating more natural elements and colors. I also collect found objects like old books and scraps of wood, and keep them around my studio. I like using different surfaces; I find they have a history and texture that adds an element of time to the work. I was also using a lot of black and contrasting colors in New York, and I'm using more earthy tones here. The courtyard I paint in has beautiful old brick, so I'm using those warm hues, soft pinks, oranges, purples, and obviously green. But being in New Orleans has definitely been a transition. I've had to be patient getting acclimated. My work is about acclimating to my space and noticing things around me. So New Orleans has been a great reminder to slow down, to have patience with the practice and with myself, and to not force things until the moment calls. New York is so busy, with pressure to go go go. But here, there's a lighter, gentler feeling in the air. 
 

Do you have any projects on the horizon, either personally or professionally?

It has been a busy season, with planning the wedding, renovating the house, and doing private art lessons for kids. So right now I'm focused on carving out time for my personal practice any chance I can get. Having quiet time in the courtyard has been my priority. 
  
That sounds lovely. It's a good reminder to all of us to make time for the things we love and for those quiet moments alone. And New Orleans is such a lively, social place that it's sometimes necessary to carve out that time, as you're doing. What's your favorite thing about living in, and making art in, New Orleans?
 
The history, the architecture, the lush tropical nature — and the connection between all those. I love the decaying buildings, the way the roots of trees grow into fences, the weird moments you find walking on the street. For example, a couple blocks away from me, there's an abandoned building with the windowpanes smashed in and a really beautiful curtain hanging in the window. These little moments happen by accident here, and you stumble upon them all the time. That really inspires me. 
 
Exactly! Couldn't agree more. We love these images of you in your Lekha, amid those interesting architectural moments at your home —the brick courtyard, the wrought-iron balcony — and how the textures in your space and your work play with the texture and movement of our pieces. How would you describe your personal style? What do you keep in mind when adding to your personal wardrobe? 
 
My personal style I would call timeless and unique. I try to be intentional about pieces I buy: will I appreciate this for a long time? Is it transitional? Is it good quality? I'm more on the simple side with my fashion, but I do like a playful flair here and there. I'm obsessed with Lekha's fabrics and colors. You can just tell they're handmade with love. I have a couple dresses, a couple tablecloths and blankets, and I love them. I always feel really great wearing them. The fabrics are delicately made, and the colors are so nice. 
 
Do you find that, living in New Orleans now, you're wearing more colors?
 
Yeah, I do think so. I'm trying to get more color in my closet because in New York I just wore black — black boots, black t-shirt. Here, I'm dressing more colorfully, maybe even a little more playful. 
 
Where are you finding joy and inspiration right now?
 
My courtyard. There's a dilapidated brick house connected to the courtyard. The brick is basically the wall of my studio, or my easel, so it's what I'm looking at when I'm painting — the decaying vines growing on the building, the broken windows and green shutters, and the light in the courtyard, which is always beautiful at different times of the day. It's magical. It has a lot of character. 
 
Do you have any mantras that you live by?
 
Do, don't stew. If you think of something, do it. don't overthink it. It applies to life and art. With the stresses and anxieties of life, you can sometimes spend more time and energy stewing on things. And in the studio, if I overthink something, I try to just do it and know that I'll learn from it. You can always change it or do something new. And these days, it's so easy to be on your phone all the time; you can spend your time looking at things and not actually doing things. 
 
That is very important advice, indeed. So your wedding is clearly your next big event, but what are you most looking forward to, as spring and summer approach? 
 
After the wedding, we're traveling to Italy. I'm beyond excited to see old old cities, explore, eat, and look at art and architecture. I'm also really looking forward to moving into our new/old house in the Bywater. The neighborhood is filled with soul. Our house has a backyard garage that I'm converting into my studio. It's a dream come true to design my own space that opens up into nature. Can't wait to see what will unfold in this new space. 
  
And now for the rapid fire round: 
Last book you read or are reading: a catalog on the painter Lois Dodd. 
Something you think is underrated: bird watching
Something you can't live without: my journal
Favorite spot in New Orleans: Jewel of the South. but also Audubon Park — that's where I've spent most of my time here (besides my childhood house). 
Favorite spot in NYC: The Met
In the mountains or on the water: water
Sunrise or sunset: sunset

Dream dinner guest: Joni Mitchell

Go-to snack: cheese
Favorite new discovery: When tearing down part of a wall in the kitchen of our new home, we discovered a time capsule with old pictures from previous owners and notes written on a piece of wood. I love the history of these houses and thinking about the people who lived here.
Personal role model/mentor/woman you look up to: My mom is the person I go to the most for guidance and advice. But I have a lot of women I turn to in my life — friends, aunts, the presence of my grandmothers.