Nikita Jain in City Palace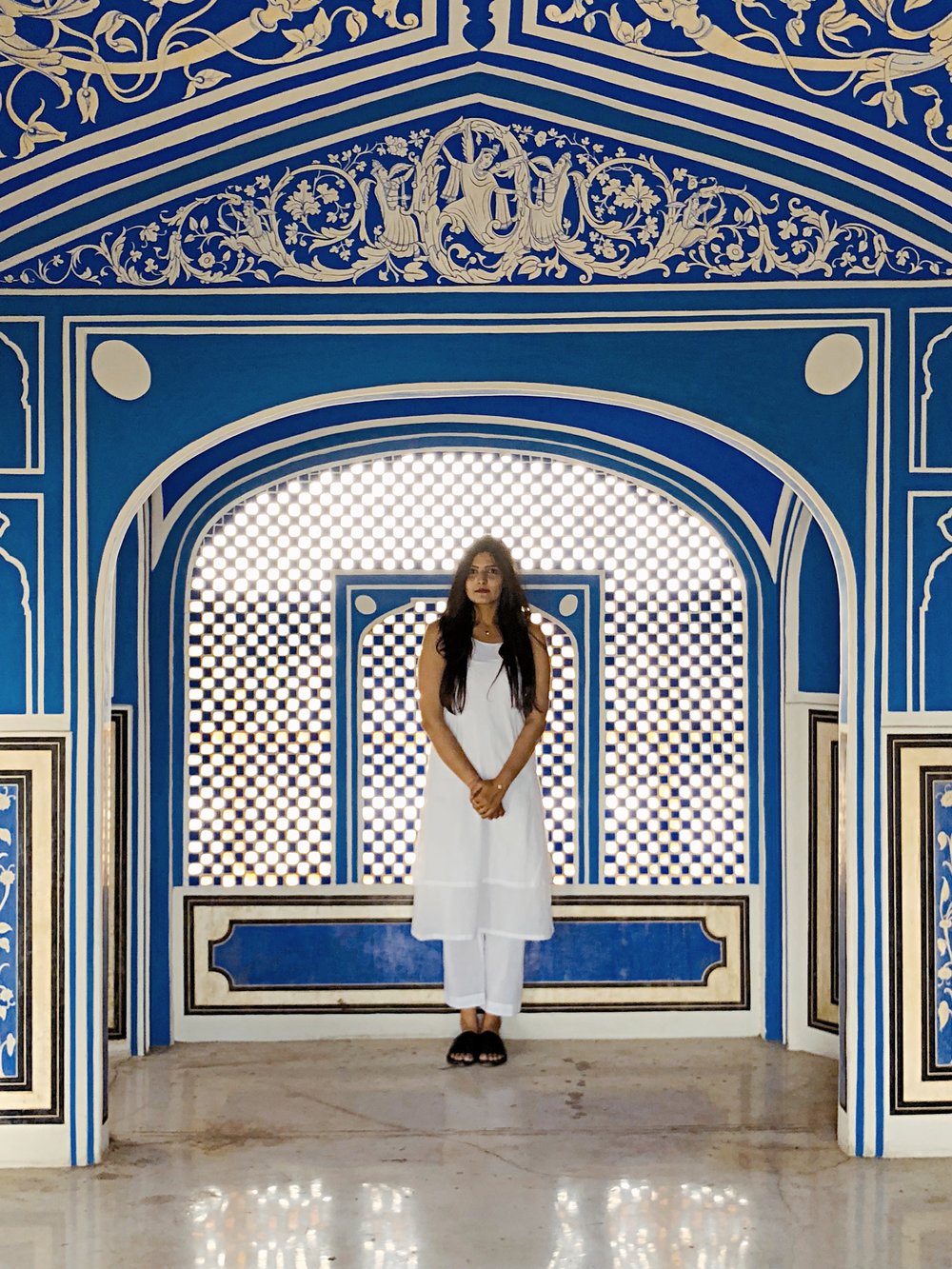 We met Nikita Jain happenstance, through mutual contacts in India. Immediately, we were in awe of this young jewelry designer — just out of school and already determined to build a successful business around custom creations, large and small. When we visited one another in Jaipur back in February, Nikita tried on a few pieces from our debut collection — and we soon found ourselves in an impromptu photoshoot within the beautiful rooms of city palace in Jaipur … read on for more about Nikita and her jewels.
"Discovering jewelry is a very organic and gradual process for me. I have been in love with colors all my life, it gives you the opportunity to create a unique identity . I used to paint and was inclined towards art and creativity. I don't have a traditional jewelry background, so I learn through the challenges and mistakes I encounter along the way. I want to cater to customers who are design savvy, individual and interested in craftsmanship: people who have their own sense of style rather than being dictated to by fashion trends. I believe that true luxury is effortless and that everything is infinitely more stylish when it's worn with a smile."
What's the first piece you made or designed?
A handmade bracelet using jump-rings, inspired by the symbol called "flower of life" while learning jewelry manufacturing. I later designed my best friend's engagement ring as my first order which will always be close to my heart. 
Tell us about your process…
Once I have a new idea, I use my sketch book to document and explore the concept further. Then I begin experimenting with material — my work bench is where the biggest discoveries are made. Each gemstone is then carefully hand-selected for the design. It is an organic process which is reflected in the jewelry we create.  Our entire process is handcrafted using traditional Indian techniques with negligible to no usage of machines. We currently have one functional manufacturing unit and workshop, stationed in Jaipur.
Favorite stone?
"Gems have a life in them, their colors speak where words fail." Gemstones are my passion, to be honest I can't pick one particular gemstone because every gem has its own brilliance and beauty. Though diamonds are my personal favorite (plus it's my birthstone), I also like Paraiba Tourmaline and Pearls.
What does it means to be a female jeweler today?
We are entering a new age in business where, as females, there are opportunities to thrive if you adopt the correct mindset. Additionally, a significant part of our customers are female so I can relate to them. But despite steps in the right direction, female jewelers or upcoming jewelers face an uphill struggle in terms of proving themselves in industries that are disproportionally male dominated or run on legacy. The jewelry business is dominated by males all over the world not just in India. My mantra is to try and focus on things that are within my control and stay positive.