A Letter From Trish on Returning to India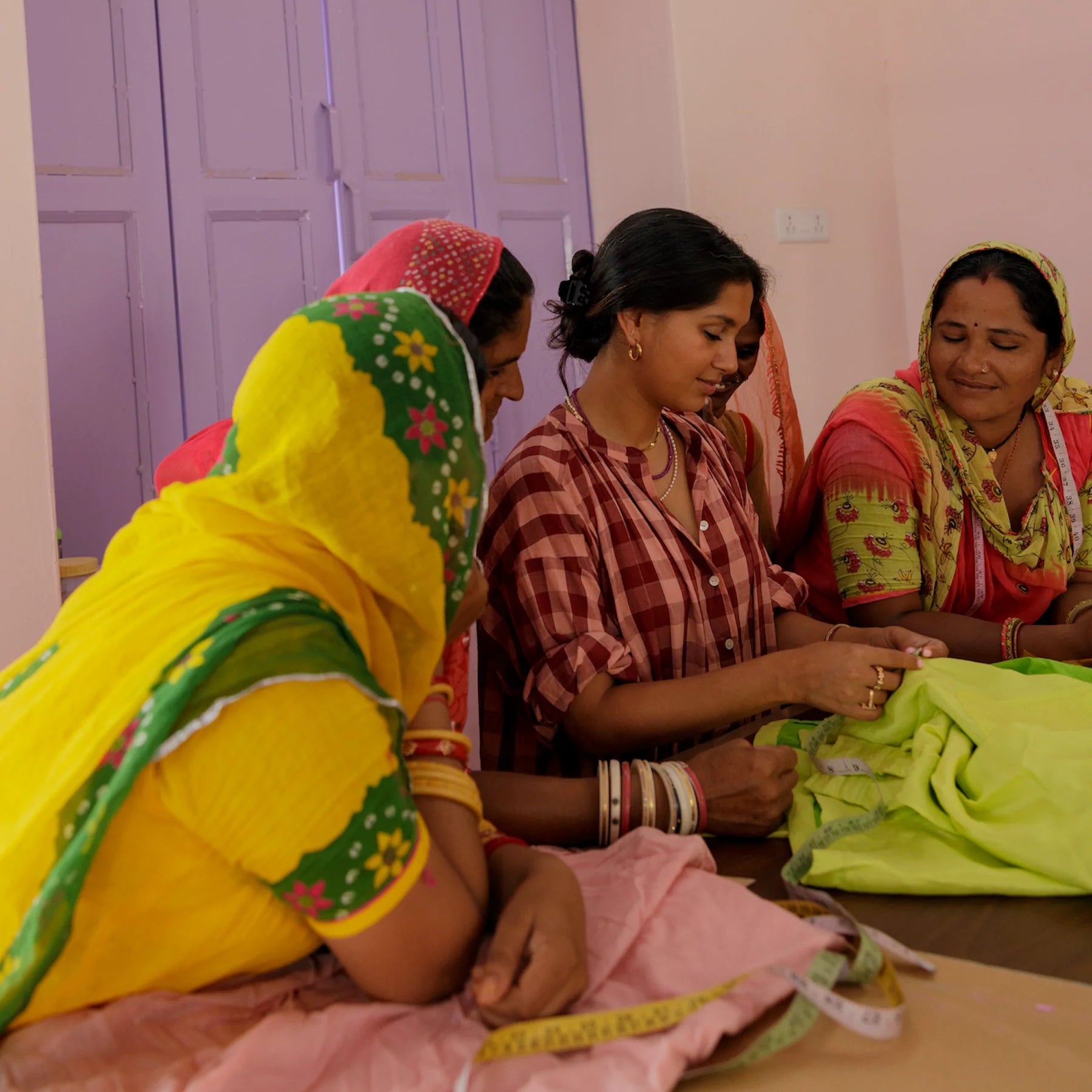 This summer, after we closed our collaborative yearlong pop-up in New Orleans with Finch Hatton and Waysides, I was finally able to return to India, my first trip back since February 2020. I had a number of goals: see family, investigate new partnerships, reconnect with old ones, and finalize our winter capsule with our existing partner families. Arriving at my mother's home in Delhi, I received a blessing, an arti, where colored powder is put on my forehead with rice, a coin is held and encircled around the face, and a diya is lit on a small tray. The sweet, beautiful ritual happens every time I come or go from India, welcoming me or saying farewell, but was something I hadn't put value on until that very moment. The warmth that this ritual evoked in me caught me by surprise and I found myself tearing up — a sign that my three-week trip would be saturated with emotion, reverence, and gratitude
… 
I headed off to Jaipur to meet with my friend Sanyukta, who has been tied to Lekha since its earliest days. We drove around, catching up and visiting Jaipur's new spots, like The Johri, and our old haunts, like Raj Mahal. We met with new partners, immersed ourselves in block prints, and designed new silhouettes and patterns that are coming down the pipeline. 
After Jaipur came Jodhpur, where I visited my partner family, the Saheli Women, and surrogate big sister Madhu. Madhu and I started working together in 2018, but our relationship has deepened over the past four years. She's an incredible woman who I wish you all could meet. Over the past year, Madhu created an auxiliary workshop in another small community outside Jodhpur, a haven for Hindu Pakistani women who migrated with their families back to India, fleeing rape, kidnapping, and bigotry. Yet once they arrived, they were still greeted with racism and isolation, and being from Pakistan made it difficult for any member of the community to get work. The ladies told me their stories, challenges they've endured, and their optimism for the future. Given the opportunity to work, be creative, create relationships, and become the breadwinners for their families, the ladies soar — and Madhu is the one behind their newfound confidence. 
In our main Saheli workshop, the women and I reconnected, drinking chai on the workshop floor, getting henna (mehendi) by the younger daughters on our arms, and discussing new designs. I gravitated to old, colorful silks that have sat in the workshop, unused, for years. We spent days creating and experimenting with quilting, natural dyeing, and embroidery, sharing stories of our lives over the past two years. Our next collection together, full of natural dyes, new silhouettes, and upcycled silks, began to take shape.
I met with my friend Hemendra in Madhya Pradesh who kept hundreds of weaving families afloat over the pandemic, and who helps me create Lekha's supple striped and plaid muslin fabrics. We plotted next moves, talking mulberry silk, organza, and new techniques. From there I went to south India to see my brother, sister-in-law, and niece, and then again to north India to spend time with my mother, wandering Delhi, eating home-cooked kana, and taking in all the different ways the city has changed.
As a final project to showcase the process and new fall styles, we photographed first in the workshops, and then in a collaborative fall capsule photoshoot. Madhu and I sat on the dunes of the Thar Desert with our small shoot crew, cattle herders wandering in the distance behind us, giddy with excitement about you — our Lekha family and community — seeing just what we've been able to create together after over two long years apart. Thanks to Madhu, the skilled artisans, my creative partners, and my family, I left India feeling renewed, my cup overflowing with ideas, camaraderie, and inspiration.